home
what's new
cruiser links
trail reports
cruiser sightings
land cruiser tribute
tech tips
photos
maps
band links
misc links
profile
email

The Land Cruiser Restoration Project
Page 1 2 3 4 5 6 7 8 9 10 11 12 13 14 15 16 17 18 19 20 21 22 23 24 25 26 27 28 29 30 31 32 33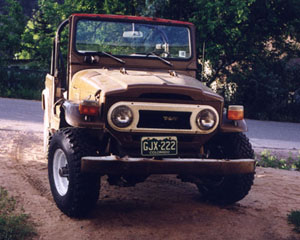 ---
With the B pillars finally done, I could finally get going on the quarter panels! Woo hoo! I invited some friends over for a quarter panel installation party. Below is Martin Huber, left, and Dan Kucera, right.
We inspected Charlotte to get a good idea of what everything's supposed to look like, and also took some measurements.Below, Martin checks out how the front of the CCOT quarter panels will fit up against the rear of the B pillars.
Dan checks the fit while I look for something. The quarter panels were trimmed a little bit at the top to fit where the lip was cut to make the bottom lined up just right.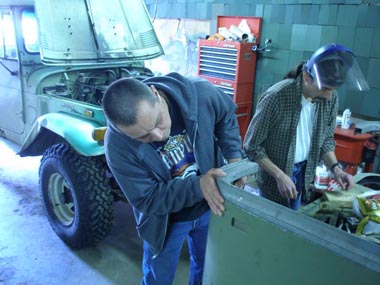 The first tack still glows yellow as I prepare to weld the next one. I started at the upper corner and worked my way along the lip.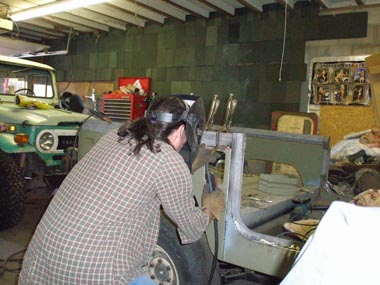 Trimming the other side: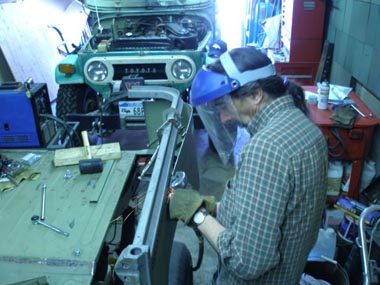 I start welding it in while Ricardo looks on, then Martin gets to see how it is done.
Working my way all the way around the back.
The top of the quarter panels are all welded in to the lips! YAY!
The best part of the day...Pizza for lunch!!! Woo hoo!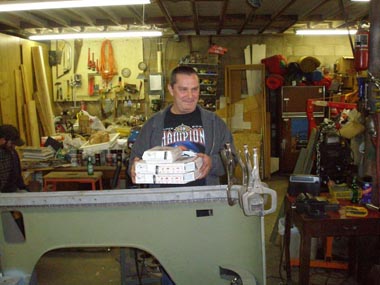 I drilled two rows of holes to weld the bottom rear of the quarter panels to the wings of the sill.
To get everything to line up, I jacked up the corner with a 2x4, then clamped it to the sill wings with the big c-clamp vice grips.
Like the other joints, I fill the hole with a MIG weld tack and it works like to factory resistance welds. I also added a couple on the inside just for good measure.
Next, I do the same for where the quarter panel meets the box section.
Now, for the other side!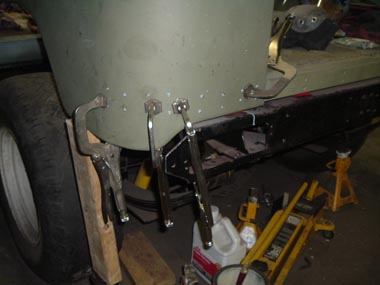 ---
Page 1 2 3 4 5 6 7 8 9 10 11 12 13 14 15 16 17 18 19 20 21 22 23 24 25 26 27 28 29 30 31 32 33

home what's new cruiser links trail reports cruiser sightings land cruiser tribute tech tips photos maps band links misc links profile email