home
what's new
restoration
cruiser links
trail reports
land cruiser tribute
tech tips
photos
maps
band links
misc links
profile
email
The Land Cruiser Restoration Project
Page 1 2 3 4 5 6 7 8 9 10 11 12 13 14 15 16 17 18 19 20 21 22 23 24 25 26 27 28 29 30 31 32 33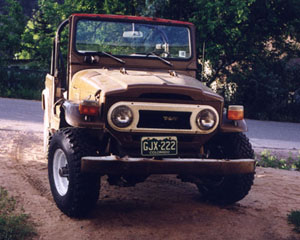 ---

Between page 1 and now, both rear ambulance doors and the passenger side door have been stripped down to bare metal and primed, and a lot has been learned along the way. The first lesson is that, as fun as sandblasting is, it is way slow, uses a lot of air and there are all kinds of problems that can come up to slow you down.

I share what I have learned about Sanding and Sandblasting, linked from myTech Tips page.

Set the piece on the surface that it will be painted on. A large, clean cardboard box works well. Then clean every square inch with window cleaner and paper towels. This will remove the last remnants of oil, contaminants and metal and paint dust. Blow off with clean dry compressed air.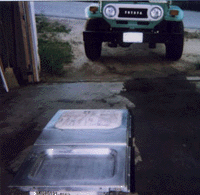 One ambulance door just before priming.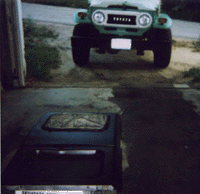 And after.
---

Since the last update to this site, both rear doors have been stripped and primed this way, passenger door disassembled (boy I sure hope I can remember how they all go back together!), stripped and primed, and the driver's side door has been disassembled. The seatbelts, roll bar, passengers seat and seat mounts, heater hose clamps and shroud, filler cover, side marker lights, wiper arms, shift boots, floor liner, and everything but the driver's seat and gas tank has been removed from the tub: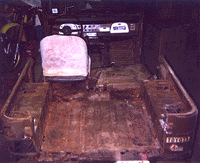 Rear view of tub on 9/9/99.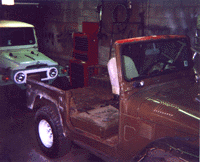 Front/side view

---
Ran her for the last time on Sept 17, 1999. Drained fuel, coolant and pulled the battery, and it's time to get to work!
---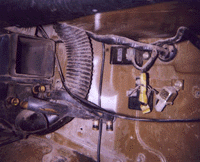 Trying to get it down on photos what it is supposed to look like, here's the firewall.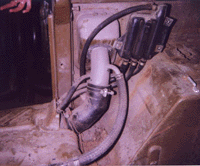 And good grief, what's up with all these hoses to the fuel tank!?!?!
Anyone want to know why their heater doesn't seem to be working as well as expected? Try cleaning it off! :-)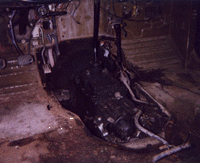 My first look at the tranny and transfer case from the top side.
---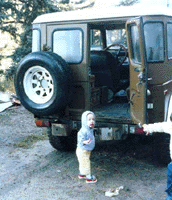 Daughter Jenny in 1985.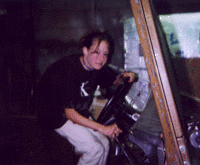 And now, she's old enough for her learner's permit and wants to drive it! (update, she gets her learner's next week.) (Further update...she's been driving a 1985 4runner for the last 3 years.)

Page 1 2 3 4 5 6 7 8 9 10 11 12 13 14 15 16 17 18 19 20 21 22 23 24 25 26 27 28 29 30 31 32 33
---
home
what's new
restoration
cruiser links
trail reports
land cruiser tribute
tech tips
photos
maps
band links
misc links
profile
email