home
what's new
cruiser links
trail reports
cruiser sightings
land cruiser tribute
tech tips
photos
maps
band links
misc links
profile
email

The Land Cruiser Restoration Project
Page 1 2 3 4 5 6 7 8 9 10 11 12 13 14 15 16 17 18 19 20 21 22 23 24 25 26 27 28 29 30 31 32 33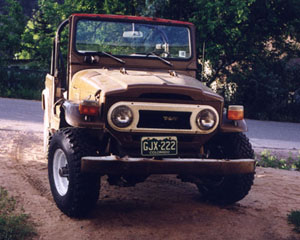 ---
I used a piece of manilla envelope to get the proper radii for the piece I would need for the transition, then transferred that to some 16 gauge sheet metal.The piece you see cut out from the sheet metal was from when I fabricated a rear sill for my 1971 FJ40, Charllotte.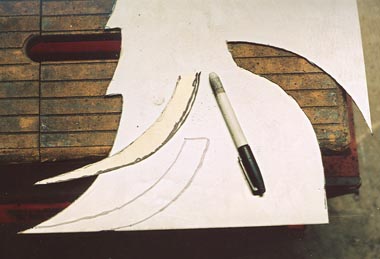 Below, I start welding the transition pice to the rocker lip. I used my anvil and a ball peen hammer to shape the piece, and clamped it with the welding c-clamp after each spot weld as I went along.
After welding, the mounds are ground down to the contour.After a test fit, it is welded in. Not super-pretty but with some body filler and sanding it will be fine.
Welding the inside.
Next, I cut a piece to make up the gap on the back of the B pillar. It was kind od a tricky shape and took a bit of grinding to get it right.Then stick a welding magnet on it to hold it in place.Weld it in, then grind it down.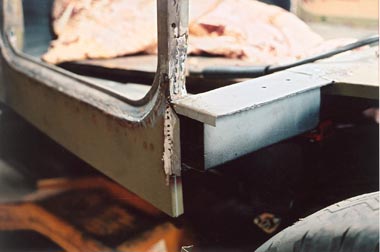 Next, I had to make a piece for the outside lip of the passenger side rocker and weld it in.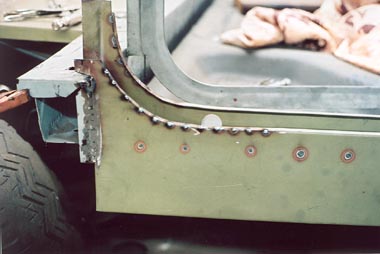 Then weld the rocker lips in.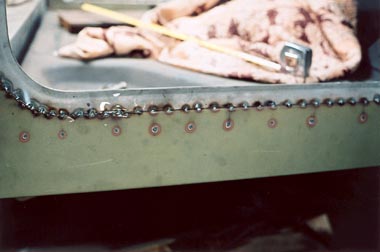 For the rear of the B pillar, yet anothe funky shaped custom piece.
Grinding down the welds for the front of the rocker lip to the base of the A pillar was a tricky task.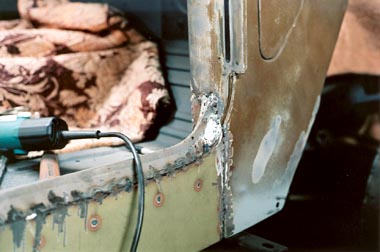 With the rocker lips finally finessed and installed, now the quarter panels could be installed.
---
Page 1 2 3 4 5 6 7 8 9 10 11 12 13 14 15 16 17 18 19 20 21 22 23 24 25 26 27 28 29 30 31 32 33

home what's new cruiser links trail reports cruiser sightings land cruiser tribute tech tips photos maps band links misc links profile email