home
what's new
restoration
cruiser links
trail reports
land cruiser tribute
tech tips
photos
maps
band links
misc links
profile
email
Cruiser Sightings
---
The Evergreen/Kittredge area of Colorado seems to be quite a Cruiser mecca. Most of the shots below were just from driving around town and actually having my camera with me when I caught sight of an interesting Cruiser. All of them have interesting backgrounds and stories to tell. Enjoy!
I clipped this out of a magazine many years ago, no idea which one, but it has hung on my office wall for many moons, thought I'd share it with you!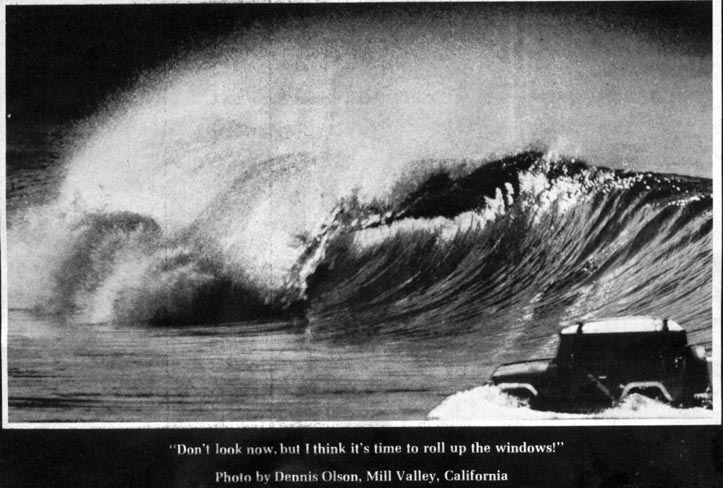 ---
This rare, non-USA right hand drive FJ40 belongs to Roberta Buchannan. She is a postal delivery driver in Evergreen Colorado. I have seen this cruiser many times, parked up by the Evergreen Post Office. Finally one day I drove home and came back with my camera to snap these photos. She told me that the previous owner, also a postal delivery driver, brought it back from Japan in pieces, then reassembled it. It is titled as a 1972, but you can see it has later model turn signals on the front fenders and later model rear frame channel and tail lights. It has signature rust, but the Japanese characters and right hand drive make it quite unique. It is difficult to tell from the photo of the interior, but the shift instructions on the glove box door are also in Japanese characters.
---
On my way up to photograph Roberta's rig, I saw this FJ40 in the 7-11 parking lot. It looks like a 1970 or '71. One of the things that caught my interest is the way the dash was modified to accept a radio. The knobs have been moved and the install looks very stock, even though there was no cutout in the dash for a radio until several years later. The reflection in the side window is of my '71 '40.
---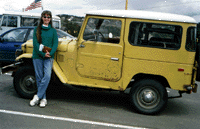 Diane bought her 1976 FJ40 brand new off the lot at Burt Toyota, and it has been her daily driver ever since. Ironically, it has the exact same miles as my 1976, 272,000. She has less rust than mine however. I met her when I was photographing Roberta's Japanese cruiser. Saw the distinctive roof outline in the post office parking lot and decided to "stake out" her cruiser to meet the owner. Like mine, it is their family car and has been practically forever.
---
This is one of the nicest pigs I have EVER seen. These photos were taken on July 4th, 2000 at Evergreen Lake. The roof liner was some kind of silvery reflective stuff, and below it the owner had a custom fishing pole rack mounted with a number of fishing poles, so undoubtedly he was fishing at the lake. V8, 33x12.50 BFG M/Ts, alloy wheels, nice roof rack, custom front and rear bumpers, not a spot of rust, just a super clean rig. I left a note under the wiper but never heard back from the owner. Joe Calleja of Colorado Toyota Specialists (a TLCA Associate member and fellow Rising Sun member) told me that he beieved the rig belonged to a fellow named Mario, and that he had worked on the truck before. He told me that if it was the rig he was thinking of, that the V8 was an LT1 out of a Corvette. Too cool!
---
On the way back from photographing that fine pig, I again saw the roof outline of a '40 in a parking lot, this time across from the Little Bear in Evergreen. Fairly stock except for the lift. Man there's a lot of cruisers around here!
---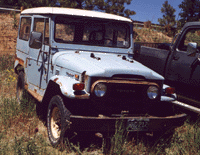 Now this looks like the typical rust bucket we see in farmer's fields, rusting away. Difference is, this guy (sorry forgot his name) drives his regularly. I saw this on the way to a yard sale in Indian Hills. It's a 1973.
---
My wife photographed this white FJ40 in Kittredge. I would guess '77 or '78 or so.
---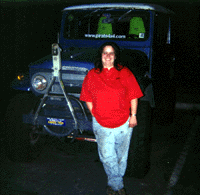 Ige came to meet some Rising Sun and assorted Listers at On the Border in Golden CO on October 20, 2000. The gathering was to socialize, talk cruisers, and above all enjoy each other's company, which we did! Ige's V8J40 has a spring over, huge tires (36s?) all kinds of modifications, and is featured in Toyota Trails.
Jeff Williams is an Evergreen local with a beautiful beige FJ60, seem to recall that it is an 83 or 84. He has a Toyota Land Cruiser H55F 5 speed and 32 inch all terrain tires. I see him around town periodically and we chat cruisers.
---
home
what's new
restoration
cruiser links
trail reports
land cruiser tribute
tech tips
photos
maps
band links
misc links
profile
email