home
what's new
restoration
cruiser sightings
cruiser links
trail reports
land cruiser tribute
tech tips
photos
MP3 upside down
MP3 reckless reason
maps
band links
misc links
email








Welcome to my tribute to the legendary Toyota Land Cruiser, quite simply the BEST four wheel drive, off road vehicle ever made. Nothing comes close to the stout, rugged, dependable go-anywhere design and construction of this amazing vehicle. I have had my 1976 FJ-40 (the brown one behind the green one) since 1982, and have over 272,000 miles on it! It still runs like the day it was manufactured and will go places that j**ps fear to tread! The 1971 shown in front was acquired in December of 1998, and only has 110,000 miles on, just starting to get broken in!
---

Cruisers were made in a variety of models over the years, with the FJ25, FJ40, FJ45, FJ55, FJ60, FJ62, FJ80, FZJ80, and the current model, the UZJ100 imported into North America. Many other models have been made available, particularly in Australia, Japan, Canada and various countries in Central and South America, Africa and Europe. Many of these other models are diesel powered, but the North American models shown below are all gasoline powered.


---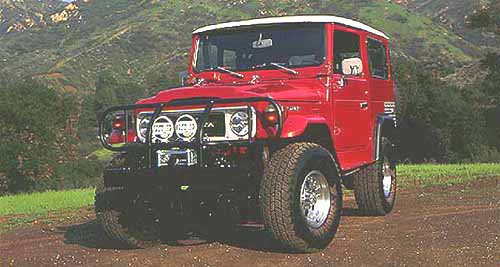 This is a particularly beautiful fully restored FJ-40. Someday I'd like both of mine to look this good.
---
Shown below are profiles of some additional models that were sold in North America, from left, the FJ45 pickup truck, the ubiquitous FJ40, then the FJ55 wagon, which was sold during some of the same years the FJ-40 was available, and finally on the right an FJ60. The FJ55 has been affectionately dubbed the "Iron Pig" by it's devoties, or just "Pig" for short. At one point during the 70s, it was called the ugliest car on the road, but those of us who value function over form think a Pig is a beautiful piece of machinery. Some people have labeled the FJ60 and FJ80 as grocery-getters, and unfortunately many of the newer ones are only used for that and to ferry the kids to and from soccer practice, but underneath they still have the legendary guts and off-road capabilities as their earlier models.

---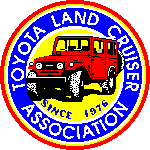 The Toyota Land Cruiser Association is the official club for Toyota Land Cruiser enthusiasts. They are the second largest four wheel drive club in the world. This link will take you to their official web site, where there are many more land cruiser links and much more information than I have space or time to put up at this site. If you are a Land Cruiser owner, or are contemplating obtaining one, I highly recommend you join TLCA. The nominal price of membership ($25 USD) is more than worth the incredible magazine they put out six times per year, Toyota Trails. It evolved from a simple newsletter, photocopied and stapled at the corner, to a full color glossy magazine, full of great stories, photographs, tech advice and sources for parts and modifications.

---


The Rising Sun 4 Wheel Drive Club of Colorado is my local chapter of the TLCA. This link takes you to our web site.

---

Below are thumbnails of some shots of my cruisers. Click on the thumbnail for a full sized image, then use your browser's BACK button to return here.
---

This is what happens when you drive a vehicle a quarter million miles in the snow, what with all the salt they put on the roads for lesser vehicles. Cool Cruisers of Texas, Spector Off Road, Man-Fre and others (links shown below) are helping me restore it back to factory new condition. Click on the photo to see how the project is coming!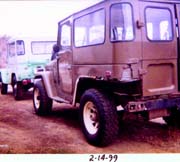 ---

Here are some more shots of beautifully restored cruisers. Full size images can be seen at the site for Toyota Land Cruiser, link is below.





---

Cool Cruisers of Texas is a great company to do business with. When Toyota stopped making body parts for our beloved rigs, they decided to have them fabricated to original factory dimensions and specs. Not only do they have parts that you simply can't get anywhere else, their prices are great and they are great folks to do business with, they really help you out. Visit their web site, and give Chad or Stephen a call or email. They will help you keep your rig like new!

---

Spector Off Road is another excellent source of original Toyota Land Cruiser parts. I have done some business with them in the past and have been quite satisfied.
---

Man-A-Fre also enjoys and excellent reputation as a quality parts supplier, and has done me well.

---

These guys both have great web sites...enjoy! I pulled a lot of the images for this web site down off theirs.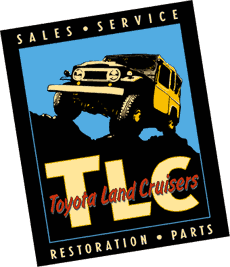 ---
home
what's new
restoration
cruiser sightings
cruiser links
trail reports
land cruiser tribute
tech tips
photos
MP3 upside down
MP3 reckless reason
maps
band links
misc links
email