home
home
what's new
restoration
cruiser links
trail reports
land cruiser tribute
tech tips
photos
maps
band links
misc links
profile
email
The Land Cruiser Restoration Project
Page 1 2 3 4 5 6 7 8 9 10 11 12 13 14 15 16 17 18 19 20 21 22 23 24 25 26 27 28 29 30 31 32 33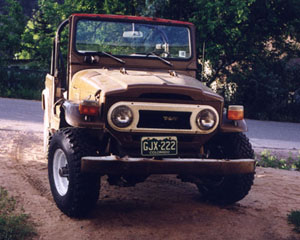 ---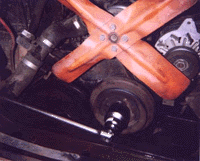 Well, the compressor is back from warranty repair. I lost three nice weather weekends worth of sandblasting to that. I checked into renting one and they wanted $42 per day, so I concentrated on doing jobs that don't require compressed air. Then I got a terrible noise inside the engine of my 1971 FJ40, and had to take some valuable wrenching time away from the restoration project to attend to that. See the description of the problem and the repair in the brand new Tech Tips section, along with tips for sandblasting and more.
After those setbacks, I ended up getting sick with the flu for a week or so, and now it is Christmas already. But some progress has been made. I just got the radiator, front heater core and the new (to me) used rear heater core back from the radiator shop, having them hot tanked and serviced. A number of additional parts have had their final prep and have been primed, such as the radiator shroud and fuel tank cover. In this photo you can see me cutting the inside lip of the rocker panel. The new inside and outside rocker panels from Cool Cruisers of Texas will be welded to the old lip.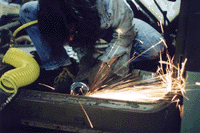 In this next photo, I have added markings so you can see where to cut the old lip: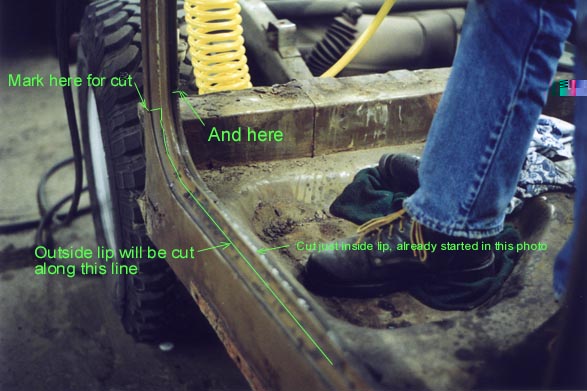 In this series you can see the inside cut being finished up, and the outside cut progressing.
When done, this is what the quarter panel/rocker panel lip will look like.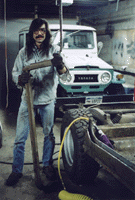 There's a LOT of sanding to do in this project. Check out the new Sanding and sandblasting section of the new Tech Tips page. This series show me working on the hood, easily the largest surface area of any one body panel. Sheesh that a lot of sanding!
This 3M sanding wheel mounted on an air powered die grinder is one of the greatest sanding tools ever invented: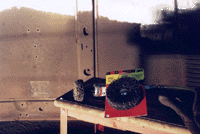 Page 1 2 3 4 5 6 7 8 9 10 11 12 13 14 15 16 17 18 19 20 21 22 23 24 25 26 27 28 29 30 31 32 33
---
home
what's new
restoration
cruiser links
trail reports
land cruiser tribute
tech tips
photos
maps
band links
misc links
profile
email