home
what's new
restoration
cruiser links
trail reports
land cruiser tribute
tech tips
photos
maps
band links
misc links
profile
email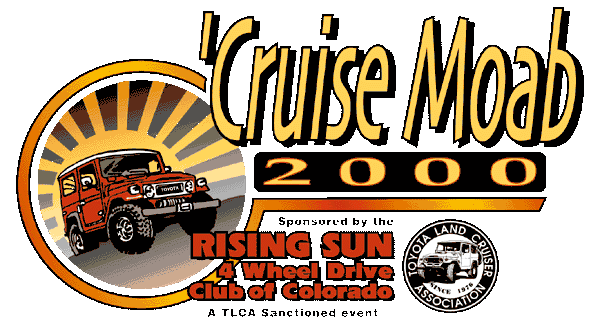 Wednesday, Registration and Safety Inspection
This was my first Cruise Moab, and I will always remember it. I had wanted to go to one of these Toyota Land Cruiser Association Sanctioned events, plus Rising Sun Four Wheel Drive Club, my local TLCA chapter hosts the event every year. A couple months before Cruise Moab, I realized that the Restoration of my '76 would not be done in time, I decided to take my '71 FJ40.
There were many items that would need attention for a long drive and punishing off road abuse. The restoration came to a grinding halt and all attention was turned to preparing the '71. The following is an overview of some of the tasks performed over a period of six weeks or so:
* Change front and rear differential oil
* Tighten transfer case output shaft nut
* Inspect and repack front wheel bearings and birfields
* Replace plugs
* Replace entire exhaust system with stock Toyota OEM, from manifold to tailpipe
* Procure, sand blast and paint air cleaner housing and replace holley carb with stock carb
* Swap the good 31x10.5 BFG M/Ts onto the '71 from the '76
* Replace defroster hose
* Overhaul the Brakes
* Replace the Clutch Master Cylinder
* Adjust the clutch release fork (not as simple as it sounds...had to drop the skid plate to get to it)
* Put in a seat cover for the long sweaty ride to and from Moab
* Adjust the points
* Put the rear drive shaft into the proper phase
* Add a coolant recovery system to pass tech inspection
* Change the transmission and transfer case oil
* Rethread the skid plate bolts and nuts
* Bob the front bumper
* Swap in a used, late model distributor (which ultimately died on the drive home)
* More brake adjustment
* Install my old CB and new antenna
* Paint the front bumper
* Repair the driver's side front shackle where I smashed it on Spinning Wheel Trail, a shakedown prior to Moab
Hopefully I was prepared, and set out on Tuesday May 2nd. I met up with Chuck Stewart from Georgia and caravaned with him from Evergreen to Moab. After arriving at slickrock campground, I wandered around and started to meet some people. Many I have only known via email or Toyota Trails. Mark Whatley, Henry Cubillan, Tony and Cindy Twiddy, Karr Accord, Adam Tolman, Darren Webster, and many others were milling around Tuesday evening. I got to have a nice conversation with many people, and the cruiser gods were smiling on us. Guys from my club such as Kevin Ehrlick (Uncle Ben), Rob Merideth, Bruce Westlund (Jethro), James Bingham, Dave and Linda Spratlen, Bruce Minney, Steve Rudy, Dan Dilly Jr. and Sr., Chris Hatfield and most of our club was there.
We had our first safety and tech inspection Tuesday evening, and I passed. I didn't bring my camera, but the next morning I snapped a few shots of the scene:
May 2, 2000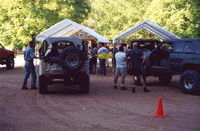 Bruce Miller chats with Chris Hatfield in "Goldilocks" on the left as the cruisers queue up for tech inspection.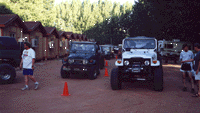 There were more than a few awesome rock crawlers there. My stock '71 looks so little with all these monsters!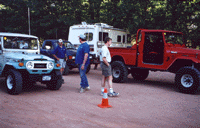 This was an awesome '45 next to my little stocker. Bruce Minney is on the left, and Chuck Stewart of Georgia admires the '45 on the right.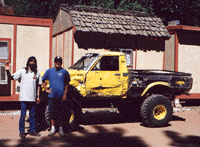 Greg McNeil, aka Captian Crunch poses with me in front of his Crunchmobile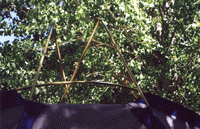 The first breakage of the trip wasn't even cruiser-related. A big gust of wind came up and snapped two of my tent poles.
I saw more different cruisers in one place this week than I ever have in my life, note the roof rack cargo on the Venezuelan's FZJ70
Wednesday, Registration and Safety Inspection
---
home
what's new
restoration
cruiser links
trail reports
land cruiser tribute
tech tips
photos
maps
band links
misc links
profile
email