home
what's new
restoration
cruiser links
trail reports
land cruiser tribute
tech tips
photos
maps
band links
misc links
profile
email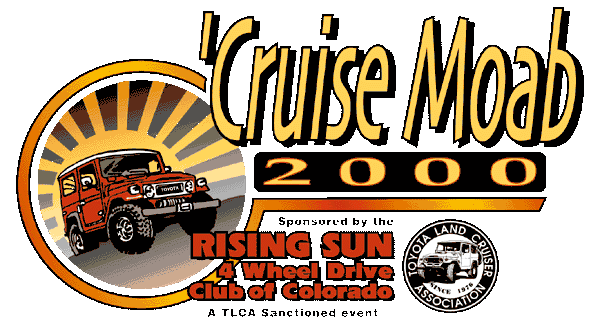 Wednesday, Registration and Safety Inspection
Thursday, Fins n Things
Thursday morning we all got up early, anticipation of the first trail runs made everyone keen to get started.
This guy comes up to me while I'm in line for breakfast and calls my name. I asked "do I know you?". He explains that he is Rob Mullen. I had offered him a ride from DIA to Moab but he ended up riding with Eric Corbett in Eric's vintage 45 troopie.
I am flattered to have the author of the Land Cruiser FAQ and Toyota Trails story editor be my co-pilot on my first trail at Moab.
This is the first day of the official expedition of the Expedicions de la Velancia, Mesa America 2000, by the first South American Toyota Land Cruiser Association chapter. They had their trucks shipped from Venezuela to Houston, then drove them to Moab. But Moab was their official start, from there they would drive all the way back to Venezuela.
Fins n Things is a particularly stark diffeence from what the Venezuelans are used to. The only snakes are rattlers, and there are no swamps or mud. Just sun baked slickrock, sand and cryptobiotic soil. What a combo!
May 4, 2000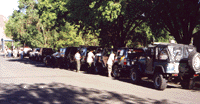 We line up on the side of the street as the Mesa America Expedition spools in their winches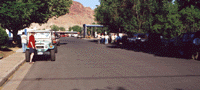 The fellow in front of my '40 checking both sides before he crosses the street is Rob Mullen.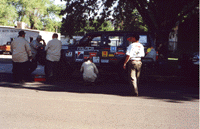 And I thought I had a lot of prep for a 700 mile round trip! These guys are making a 10,000 mile round trip. Yeah, they're checking everything out. They had cherry 1999 FZJ70s and FZJ80s. They were all tricked with dual batteries, winches, bull bars, OME, giant stereos, Factory differential lockers, sliders, and corporate sponsers up the gazoo, including Toyota.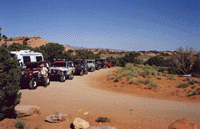 The traditional stop at the trailhead to air down.

Neil's '40 is sillouted on the slickrock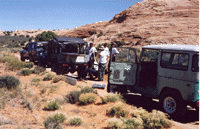 Jim lost some lug nuts on the trail. Luckily Rob spotted them and 4 out of 5 were recovered.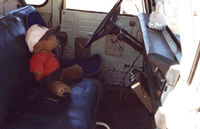 My trusty copilot Josh sits safely strapped in, ready for anything.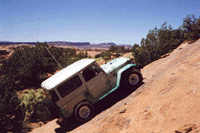 Rob Mullen took this photo. My first real Moab Pucker Factor. It would not be the last. This is what we call "uphill"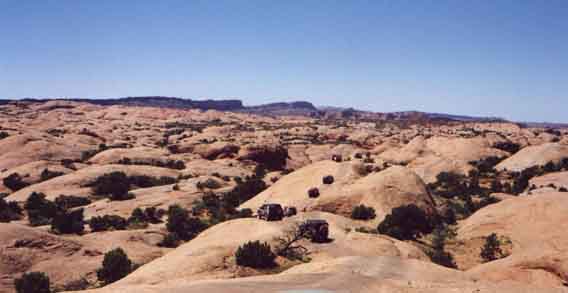 This is just one of those really cool views, with the Land Cruisers crawling along the red slickrock and mother nature just being beautiful
This hill was another pucker tester. Watch these "mall cruisers" take on this hill. I made it up it too, had to hold my mouth right!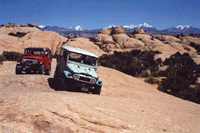 What better place to be in a Land Cruiser?
Neil's '40 crawls up the harsh granite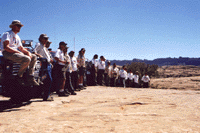 The entire crew poses for Meso America 2000's first day's trail run photo
Wednesday, Registration and Safety Inspection
Thursday, Fins n Things
---
home
what's new
restoration
cruiser links
trail reports
land cruiser tribute
tech tips
photos
maps
band links
misc links
profile
email