home
what's new
restoration
cruiser links
trail reports
land cruiser tribute
tech tips
photos
maps
band links
misc links
profile
email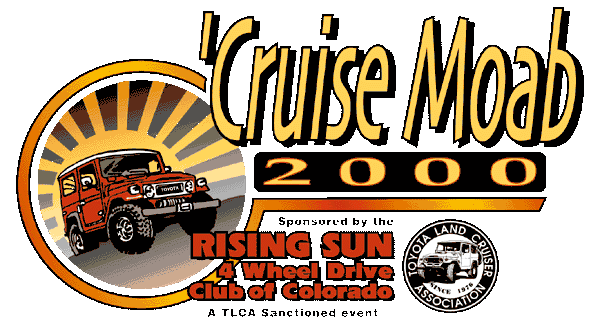 Wednesday, Registration and Safety Inspection
Saturday, Elephant Hill
Each evening when we would get back to camp from our trail run, we would sit and talk about how the trails were, how we got over obstacles, who did what. Among other things, we'd ask each other "so what trail are you running tomorrow?". When I would reply "Elephant Hill", the response would always be "Long day!".
That's partly because the trailhead is a good 70 miles from Moab, in Canyonlands National Park. But what a lot of these people didn't mention, was that 70 miles is through some of the most beautiful scenery on God's great earth.
Our trail Leader was Royal Rose of the Wasatch Cruisers of Salt Lake. Since Moab is in their backyard, figuratively, they have been an invaluable help to Rising Sun in helping put Cruise Moab on each year. They help with everything from planning, prerunning, leading and gunning trails, to the annual pot luck that Adam Tolman organized.
Royal Rose is a native to the Moab area, and his family goes back several generations there. Over the CB, he became our tour guide, pointing out landmarks and points of interest, and telling the stories of the land's rich history.
May 6, 2000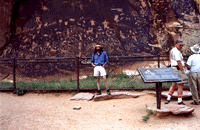 On the way to Canyonlands National Park, we passed by "Newspaper Rock", a great example of prehistoric grafitti. To the right is Steve Syzdek and Royal Rose.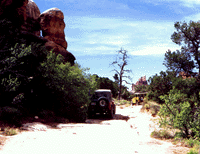 Due to some mechanical difficulties I was having, I took no photos of the ascent up and descent down Elephant Hill itself. I had cracked my exhaust manifold and my distributor was on it's last legs, and the result was that I had no low end grunt. I was able to get up the obstacle by revving my engine and abusing my clutch. As I mentioned on a previous page, sometimes you use every driving technique at your disposal to get up the trail.
This is Charles Kondo's '73 and Steve Syzdek's '79.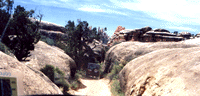 These canyons were so narrow that in some places you could not have opened your doors if you wanted to.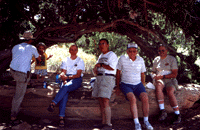 We stop for some lunch in the shade. From left, Royal, his and Loretta's son, Loretta Rose, Charles Kondo, Bruno and Steve Syzdek.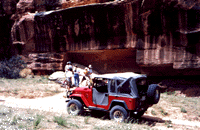 Charles' red FJ40 is parked in front of another cryptoglyph site.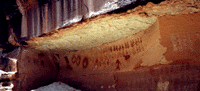 A closer view of the ancient drawings on the side of the rock.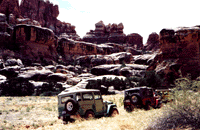 Photos just don't do justice to how beautiful and unique this area is.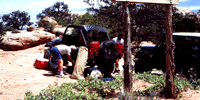 We came upon this broken j**p who was having axle issues. The consensus was that his rear axle bearings were nearly toast. After he got his rig back together we escorted him back up Elephant Hill and made sure he made it back to civilization.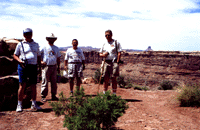 Bruno, Royal, Charles and Steve pose at the edge of the cliff above the confluence. The ONLY way to get to this spot is to either have a rugged four wheel drive vehicle, or hike a long, long way.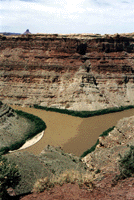 And this is the view looking down into the canyon of the confluence of the Colorado and Green rivers. You can even see how the different rivers have different colored sediment carried in their current.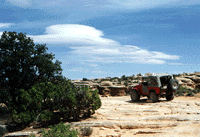 Charles cruises over the limestone ledges.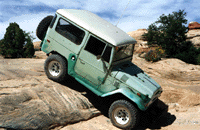 Boy am I glad I spent so much time and effort getting my drum brakes to work just right. All that work really paid off.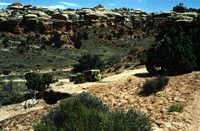 Steve and Bruno amble down the trail. It's difficult to see from the thumbnail, but this was a fairly rough section of trail.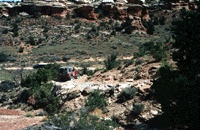 Charles crawls down in his '73 equipped with an Aussie H55F 5 speed.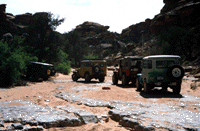 The caravan cruises over a dry creek bed. On the left is Royal's pig.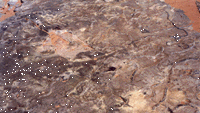 And this is what we were driving on. See the fossilized worms? Some of them were several feet long.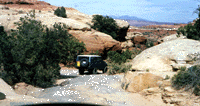 Royal's Pig cruises down the limestone.
---
Charles was kind enough to share a number of photos with me that were taken with his camera that day. Some were taken by Royal, all are excellent...
Royal's pig, piloted by wife Loretta Rose, is a formidable rig. This is their daily driver, and Rose has done quite a bit of work to it, including winch, onboard air, snorkle, custom spare and water cooler carrier, and quite a bit of body work. He has the stock F engine in it, but runs a 2F valve cover on it. He re-arched the springs himself with a pipe bender, however they are already starting to sag a bit.
Charles' '73 is quite a rig. In these photos he had a stock F that has been built with an RV cam, onboard air, 33x12.5 BFG A/Ts, OME suspension, Rancho 9000s, Brush bar, custom rear spare carrier, and a host of custom goodies built into it. I remember a particularly useful addition he had, a tool box under the driver's seat that opened from the side so you don't have to lift the seat up. As I write this (Oct. 2000) he is transplanting a Chevy vortec V8 and automatic transmission into it. I seem to remember he is having some addtional driveline modifications done too (Klune V?).
Steve's 1979 is pristine, as he lives in Nevada where it is very dry so the rust demons don't have much of a chance to munch on his steel. This rare Cruiser is almost all stock, including factory power steering and factory A/C. He runs 31x10.5 BFG M/Ts. His stock 3.70 R/P gears are great on the highway, but leave a little bit to be desired while rock crawling. Fortunately, Steve's an expert driver and he had no problems with any of the obstacles.
Non-stock items on my '71: (1) the front bumper, (2) 31x10.5 BFG M/T tires and 15x8 steel spoke wheels, and (3) a CB radio. That's it folks...I did this with a 3 speed on the column, stock 29:1 crawl ratio, original 29-year-old springs and shocks, open diffs, stock F engine, manual steering by Armstrong, and a lot of pucker factor. Oh what a feeling!
Wednesday, Registration and Safety Inspection
Saturday, Elephant Hill
---
home
what's new
restoration
cruiser links
trail reports
land cruiser tribute
tech tips
photos
maps
band links
misc links
profile
email