home
what's new
restoration
cruiser links
trail reports
land cruiser tribute
tech tips
photos
maps
band links
misc links
profile
email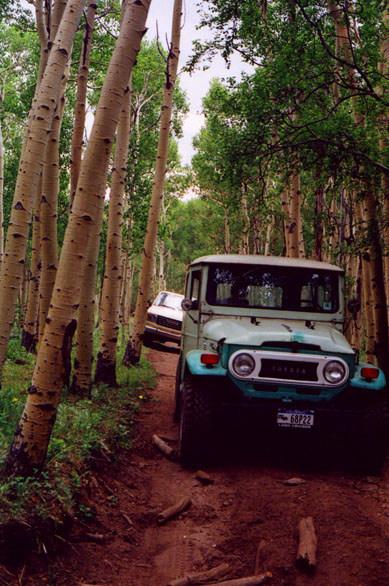 Slaughterhouse gulch
When Glenn Carpenter introduced himself to the Land Cruiser Mailing List, I noticed that he lived in Golden, very close to where I work. I welcomed him to the list and suggested that we should meet.
He had just gotten a 1983 FJ60, and while he was not yet able to get it passed emissions and get it registered, he really liked it and was interested in going wheeling.
He knew of a trail between Conifer and Bailey called Slaughterhouse gulch, and his J**p buddy had taken him there before. He suggested we try it out, so we set the date and away we went!
July 2, 2000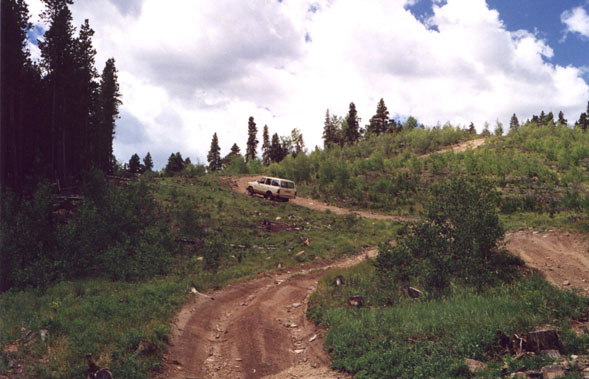 The first hill is called Stump Hill, in this shot you can see Glenn's 60 winding it's way up. It's not a difficult hill, but it seems steep for the uninitiated.
It's nice to have trails in the area which have signs, especially if you are not familiar with the route.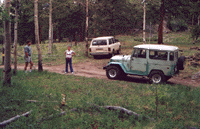 There were some nice meadows in the aspens to stop and stretch our legs.
There is one steep narrow ravine which was a lot of fun to play on. You could see that if it were muddy, it could have been challenging.
There was another section which had some rocks that looked like they were ready to bite Glenn's rockers, but he made it through without a scratch.
As Glenn drove by, I said "Say cheese!", so he mugged for the camera.
Assessing the best line down the next hill.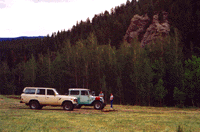 A beautiful mountain meadow to stop for lunch.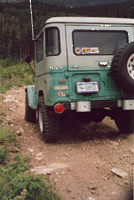 The trail is a loop, and you end up back at Stump hill. I prepare to descend.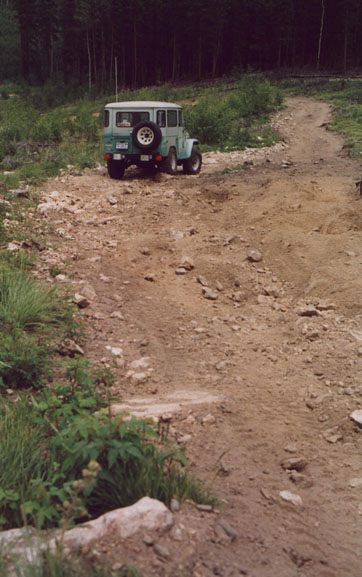 Even the stock Land Cruiser suspension articulates fairly well.
---
home
what's new
restoration
cruiser links
trail reports
land cruiser tribute
tech tips
photos
maps
band links
misc links
profile
email